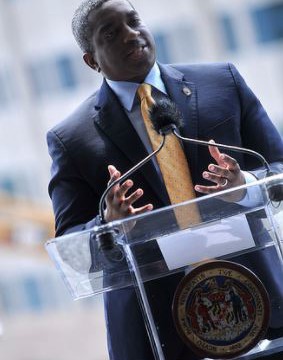 PRINCE GEORGE'S COUNTY WINS NEW FEDERAL AGENCY HEADQUARTERS AT BRANCH AVENUE METRO STATION
Multiyear Incentive Effort Lands United States Citizenship and Immigration Headquarters with 3,700 Employees and New Retail Amenities; Construction to be Completed in 2020
In 2012, in the wake of the Great Recession, I had the privilege of joining with my Council colleagues and the County Executive to establish a major tax incentive plan with our private sector partners for one of our most critical metro station areas, the Branch Avenue Metro Station in Camp Springs.  While this transit-oriented development site had been hit hard by the housing crisis, its (i) close proximity to the District, (ii) available land near a convenient metro station, and (iii) untapped development potential provided a tremendous opportunity to be a major future economic destination, especially for a prominent federal agency.
Five years later, after multiple follow-up efforts, I am pleased to announce that these years of hard work have paid off and Prince George's County has won the bid to become the home of the United States Citizenship and Immigration Services (USCIS) Headquarters, an agency of the Department of Homeland Security, bringing 3,700 federal employees and new retail and residential amenities to the Branch Avenue Metro Station.  Since this will be a major federal lease of a private development, it will be a long-term boost to our tax base and its construction will create opportunities for small, minority and woman-owned businesses in the county and local hiring.
Prince George's County is home to a quarter of the region's federal workforce — more than 75,000 workers — yet only has 4 percent of federal leased space, with half of that space being warehouses and storage facilities.  After being overlooked for many, many years by federal agencies in our region, this time, Prince George's County sent the message that those days are over!
This achievement is exactly what the Jobs First Movement and my campaign for Council-At Large is all about – creating economic destinations in Prince George's County in signature industries that matter, like the Federal Sector.  Together, we are writing the next great chapter in Prince George's County's story.  Be a part of it!  Join the Jobs First Movement here:www.jobsfirstmovement.net.
Media Article on the USCIS Project Coming to Prince George's County