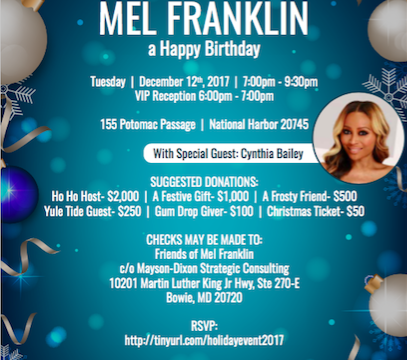 I hope you can join me and celebrate my birthday and the holiday season tonight!  During my time on the County Council, we have made great strides towards improving our quality of life for everyday families on main street, but we still have more work to do to increase economic opportunity and public investment in our most critical priorities. Tonight, I look forward to celebrating our progress and discussing how we continue to build the Jobs First Movement in 2018.
My special guest, Real Housewives of Atlanta star Cynthia Bailey, and I hope to see you tonight, December 12th at my Holiday Celebration at 7pm (VIP Reception at 6pm) at National Harbor in support of my campaign for County Council At-Large (155 Potomac Passage, Oxon Hill, MD 20745). 
We hope to see you there!
Sincerely,
Mel Franklin, Councilman