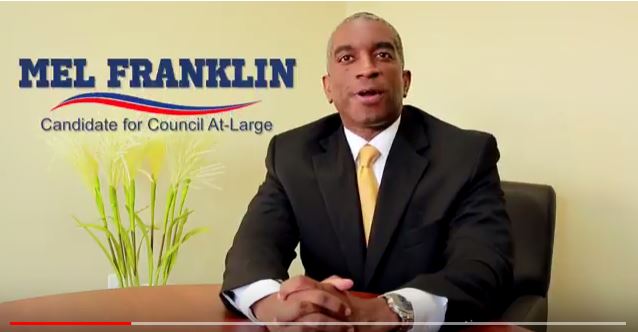 September 19, 2017
For Immediate Release
Prince George's County Councilman Mel Franklin Officially Launches 2018 Campaign for County Council At-Large Position with Announcement Video
Former Council Chairman's "Jobs First Movement" to Focus on Making County an Economic Destination and Increasing Investment in Critical Services Like Education and Public Safety
Contact: Mel@melfranklin.net
Upper Marlboro, MD – Today, Councilman Mel Franklin (D-District 9) officially launched his 2018 campaign for one of Prince George's County's two new Council At-Large positions with an announcement video released through targeted television ads, social media, and electronic mail.  The Franklin for Council At-Large Campaign Announcement Video can be seen at www.jobsfirstmovement.net.  Councilman Franklin issued the following statement:
"I passionately believe in Prince George's County's future.  And, while we have made great progress over the nearly 8 years that I have served on the County Council, we can do even better.  My service as Council Chairman and extensive legislative experience on economic development, the county budget, and quality of life issues gives me a unique, countywide perspective to be an effective advocate for each of the more than 900,000 talented and diverse residents that call Prince George's County home.
"To take the next great steps on our journey, we should execute a three part "Jobs First" plan: (1) make Prince George's County an economic destination for the world, establishing a leadership position in signature industries like health care, information technology, and the federal sector, while attracting better retail amenities; (2) keep our public dollars local to grow our small, minority, and women-owned businesses in the County, creating generational wealth and good paying jobs with good benefits; and (3) most of all — invest in our people, by growing our commercial tax base to invest more in education, public safety, roads and transit, property standards, and more services for our seniors and youth.  That's the Jobs First message and my grassroots campaign will organize around this agenda in communities all across the County.
​###
Highlights of Councilman Franklin's Accomplishments:
As a prolific legislator during his tenure on the Council, Councilman Franklin has authored over one hundred pieces of legislation adopted or enacted into law, including the county laws that authorized the development of MGM National Harbor and which require at least half of county funds from MGM National Harbor be spent on education.  Councilman Franklin is especially known for authoring landmark procurement laws, known as the Jobs First and Jobs and Opportunity Acts, which established, for the first time, minimum requirements for contracting opportunities for small and minority businesses in the county, local hiring requirements in county contracting, and a mandate that half of county funds be deposited in small, minority or local banks.
As Council Chairman in 2015, Councilman Franklin and his colleagues prevented proposed layoffs of public safety officers.  In fact, since he and his colleagues took office in December of 2010, the county budget's overall investment in education has increased by roughly $358 million (approximately 20% increase) and in public safety by about $171 million (approximately 32% increase).  As a fierce advocate for eliminating domestic violence, Councilman Franklin has also helped award over $1 million in grants to domestic violence organizations.  And, in 2013, Councilman Franklin authored legislation that reformed and expanded the County's summer youth jobs program.
Highlights of Councilman Franklin's Biography:
Councilman Franklin is married to Monekia Franklin, his wife of 11 years, and they reside in Upper Marlboro with their two children.  Councilman Franklin is an attorney who graduated from Duke Law School in 2001 with a Juris Doctor (J.D.) degree and the University of South Carolina in 1998 with a Bachelor of the Arts (B.A.) degree.  Prior to serving on the County Council, Councilman Franklin was an Assistant Attorney General with the State of Maryland, specializing in health care regulation and policy, and a member of the Board of Trustees of the Prince George's Community College.  Earlier in his career, he was a federal antitrust attorney with the U.S. Federal Trade Commission and a private sector regulatory lawyer with Sonnenschein Nath and Rosenthal (now "Dentons").